More pictures







Vegan Protein 300g Pistachio flavor
Sale duration:
18/11/2021 - 29/11/2021
Prebiotic inulin, organic plant protein containing Spirulina and Chlorella drink powder with probiotic, digestive enzymes, vitamins and natural Stevia sweetener. 
Average Rating:

(5)

Unit price:
€ 0.68/adag
Expected delivery:
December 02, 2021
Availability:

In stock
Protein helps to increase and maintain muscle mass as well as maintain healthy bones.
Vegan

Lactose free

High protein content

No added sugar

Popular product

Instantized formula

With added Digestive enzymes
High dose active ingredient
Description
Miért ajánljuk a Marathontime Vegan Protein fogyasztását?
Három fajta prémium növényi fehérjeforrás alkotja (borsó,rizs,bab)

Hozzáadott probiotikumot tartalmaz

Adagonként 3 gramm élelmi rostot tartalmaz

Hozzááadott emésztést segítő enzimeket tartalmaz

Glutén és laktózmentes

Szójamentes

Természetes édesítővel ellátott
Marathontime Prémium Vegán fehérje
A Marathontime Vegan Protein a magas minőségű borsó, rizs és babfehérje tökéletes arányú kombinációjának köszönhetően teljes értékű növényi fehérjeforrás, a szervezet számára nélkülözhetetlen esszenciális aminosavakkal.
Az adagonként 3 gramm élelmi rost, az 1 milliárd hozzáadott baktériumtörzs-probiotikum és az elérhető legjobb minőségű emésztőenzimek együttesen biztosítják a tápanyagok hatékony hasznosulását.
Kiegészítve nagy adag organikus Spirulina és Chlorella keverékkel, melyek a több mint 100 féle tápanyagnak köszönhetően a világ legteljesebb szuperélelmiszerének számítanak. 
A négyféle hozzáadott B-vitaminnal elengedhetetlen kiegészítő mindenkinek, aki vegán vagy növényi alapú életmódot követ.
Kiszerelés: 300g
Adagolási javaslat:  Keverjen össze egy adag (1 adagolókanál = 30 g) italport 250 ml hideg rizstejjel vagy egyéb növényi tejjel.ű
TÁPÉRTÉK
100 G-BAN
EGY ADAGBAN (30 G)
*RI% / 30 G
Energia 
1582 kJ/376 kcal 
475 kJ/113 kcal 
6%
Zsír
5,8 g
1,7 g
2%
 -amelyből telített zsírsav 
1,7 g
0,5 g
3%
Szénhidrát
3,2 g
1 g
0%
-amelyből cukrok   
1,1 g
0,3 g
0%
Fehérje 
73 g
22 g
44%
Rost  
10 g
3 g
-
Só
1,11 g
0,34 g
6%
HATÓANYAG
100 G-BAN
EGY ADAGBAN (30 G)
**NRV% / 30 G
B3-vitamin (Niacin) 
13,3 mg
4 mg 
25%
B5-vitamin (Pantoténsav)
5 mg
1,5 mg
25%
B6-vitamin
1,2 mg
350 mcg
25%
B12-vitamin
2 mcg
0,625 mcg
25%
Növényi fehérje keverék
(borsófehérje izolátum, rizsfehérje, fava babfehérje)
86 g
25,8 g
-
Természetes prebiotikus inulin rost 
10 g
3 g
-
Organikus spirulina por
520 mg
156 mg
-
Organikus chlorella por
480 mg
144 mg
-
ActiBio® Probiotikum
222 mg
66,6 mg
1 mrd cfu probiotikum
-
DigeZyme® emésztőenzim keverék
167 mg
50 mg
-
  *RI%: Referencia beviteli érték egy átlagos felnőtt számára (8400 kJ/2000 kcal).
**NRV: napi referencia beviteli egység felnőttek számára.
Összetevők: borsófehérje izolátum, rizsfehérje, fava babfehérje, természetes inulin rost (cikóriagyökérből), természetes pisztácia aroma, organikus spirulina Arthrospira platensis (egész növény) por, organikus chlorella Chlorella vulgaris (egész növény) por, természetes édesítőszer (szteviol glikozidok), pink himalája só, sűrítőanyag (xantángumi), ActiBio® Bacillus coagulans 15 milliárd CFU/g, DigeZyme®, nikotinamid, kalcium d-pantotenát, cianokobalamin, piridoxin HCl. 
FIGYELMEZTETÉS: A termék nem helyettesíti a vegyes étrendet és az egészséges életmódot! Kisgyermekek el ől elzárva tartandó!
ALLERGÉN INFORMÁCIÓ: tej, szója, tojás, hal és földimogyoró összetev őket feldolgozó üzemben készült.
TÁROLÁS: Száraz és napfénymentes helyen tartandó, közvetlen h őhatás ne érje. Felbontás után ne tárolja a terméket több mint 6 hónapig.
MINŐSÉGÉT MEGŐRZI: A csomagoláson feltüntetett id őpontig.
Reviews

5 rating



ZSOLT FAZEKAS
|

18/09/2021
Nagyon szeretem a termèket rendszeresen hasznàlom.
M. Laura
|

10/12/2020
Nem csomósodik. Sima, jó ízű. Ajánlom mindenkinek, aki laktóz-intoleráns.
N. Judit
|

10/12/2020
Ebben a fehérjében nem lehet csalódni. Remek íze van, és nem hagyja, hogy puffadtnak érezzem magam fogyasztása után, mint más csak borsó alapú növényi fehérje. Mindenkinek csak ajánlani tudom a terméket
B. Bea
|

16/10/2020
Végre,végre! A legkrémesebb és legjobb izű növényi fehérje amelyet kostoltam. 10/10
Evelin
|

30/09/2020
Már évek óta vegán életmódra váltottam és nagyon örültem, mikor láttam, hogy a Marathontime-nál kapható vegán fehérje. Nekem rizstejjel ízlik a legjobban, akár egy étkezést is tudok vele helyettesíteni.
Buy it in a pack with discount!
Vegán Fehérje Csomag 3*300g, 25% kedvezménnyel!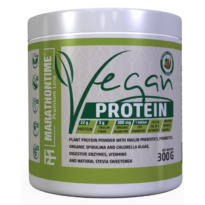 Vegán fehérje ízválaszték: Pisztácia
További kiszerelés: 300
+
Vegán fehérje ízválaszték: Vaníilia
További kiszerelés: 300
+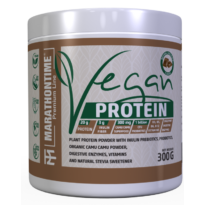 Vegán fehérje ízválaszték: Chocolate
További kiszerelés: 300
Green Pack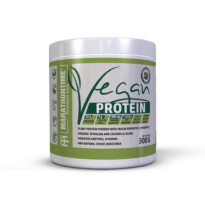 Vegán fehérje ízválaszték:
+
+