Ursolic acid - natural extract
| | |
| --- | --- |
| Availability: | In stock |
| Unit price: | € 0.76/serving |
| Expected delivery: | May 20, 2022 |
Ajándék termék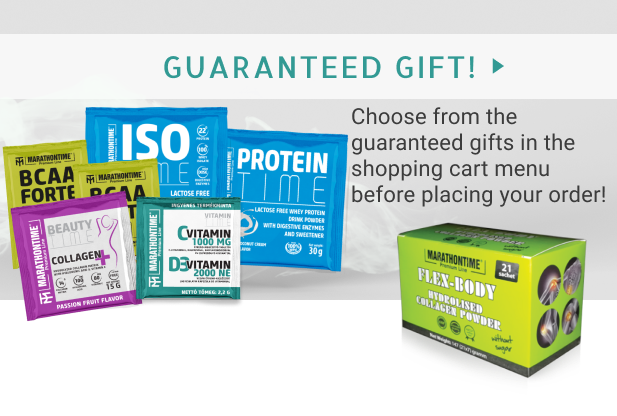 Description
 Ursolic acid - natural extract

Why do we recommend ursolic acid?
Supports building dry muscle
Support the cardiovascular system
It can help stop catabolic processes
Accelerate fat loss
Ursolic Acid - Marathontime Premium Line
Ursulic acid is a naturally occurring substance found in the peel of apples or in the leaves of rosemary, for example. Maybe that's where the saying goes, "An apple a day keeps the doctor away!" There has been a lot of research on urzulic acid, it is involved in energy production processes and it regulates energy use. Some research also suggests that it can lower cholesterol levels and lipase enzyme activity.
Packaging: 
60 Vegan capsules containing ursolic acid
One serving: 4 capsules
Number of servings: 15
Active Ingredients in the Recommended Dose (4 Ursolic Acid Vegan Capsules):
| Name | Amount per dose (4 capsules) | *NRV |
| --- | --- | --- |
| | Ursolic acid 350 mg | ** |
*: NRV daily reference intake for adults
**: NRV not determined
Ingredients:
Rosmarinus officinalis (leaf) extract (25% ursolic acid), hydroxypropyl methylcellulose, anti-caking agents (magnesium salts of fatty acids, silica), bulking agent (rice flour).
Quality: 
Ursolic Acid and all other Marathontime products are made from safe ingredients.
Warning: 
A dietary supplement is no substitute for a balanced, varied diet and a healthy lifestyle!
Allergen information:
Made in a plant that processes milk, eggs, soy, fish, and peanut ingredients
* Claims not scientifically substantiated by the European Food Safety Authority (EFSA) and not certified by the European Commission (EC).
Dosage suggestion:  
It is recommended to take one dose (4 capsules) a day.
Reviews
There are no reviews for this product.