Description
Premium Quality Vegan Protein Complex by Marathontime©

Flavor selection (Each flavor contains a different superfood): * Pistachios: Organic Spirulina and Chlorella * Chocolate: Camu-camu * Cinnamon-Vanilla: Maca-root powder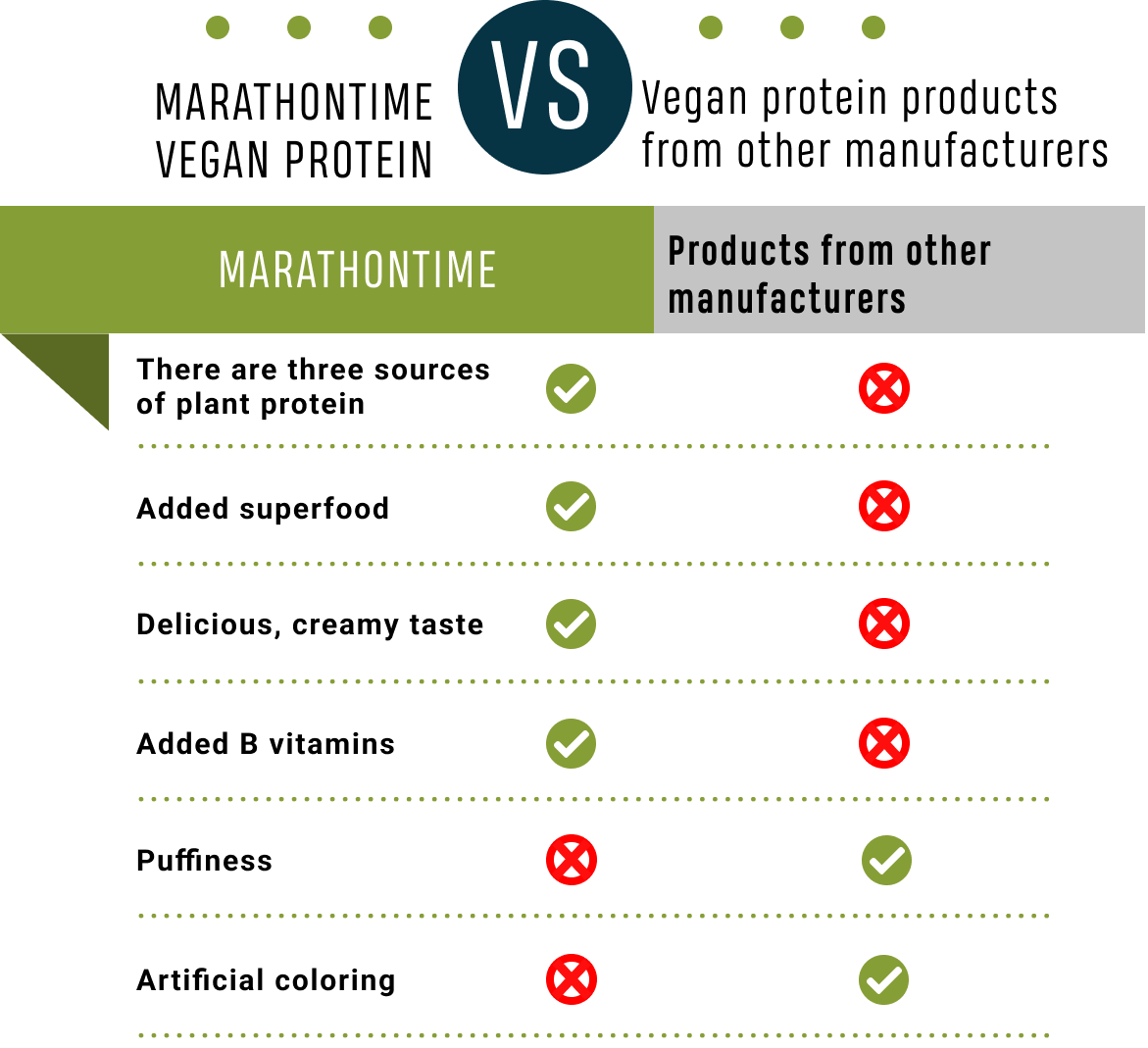 Why do we recommend it?
Contains three types of premium vegetable protein sources (peas, rice, beans)
Contains added probiotic
Made with natural flavors
Each flavor contains a different added superfood
Contains 3 grams of dietary fiber per serving
Contains added digestive enzymes
Gluten and lactose free
Soy free
Marathontime Premium Vegan Protein
· Marathontime Vegan Protein is a complete source of plant protein with essential amino acids essential for the body, thanks to the perfect combination of high quality pea, rice and bean protein.
· 3 grams of dietary fiber per serving, 1 billion added bacterial strain probiotics and the highest quality digestive enzymes together ensure efficient utilization of nutrients.
· Supplemented with a large portion of Superfood
· The four types of added B vitamins are essential supplements for anyone who follows a vegan or plant-based lifestyle.
Vitamin B3 (Niacin):
Niacin contributes to reducing exhaustion, while also playing an important role in metabolism due to energy production. Preserves the health of the skin and nervous system.
Vitamin B6:
Also called pyridoxine, it is also very important for the immune system and other processes in the body. It contributes to the synthesis of cysteine ​​and the metabolism of homocysteine, proteins and glycogen. It supports the functioning of the nervous system and the psyche. It is involved in the production of red blood cells and regulates hormonal activities.
Vitamin B12:
It is also known as cyanocobalamin and plays a role in cell division. It plays an important role in the proper functioning of the immune system, nervous system and mental state. It contributes to the production of red blood cells and the metabolism of homocysteine. Like many of the Bs, B-12 affects metabolism, which is important for energy production, and inhibits the symptoms of fatigue.
Vegetable protein blend
(pea protein isolate, rice protein, fava bean protein):
Adequate and high-quality protein intake is essential for regeneration and muscle building, but there are many other positive physiological effects of protein on the body.
· Protein keeps the pH of the blood in balance.
· Protein Serves as an energy source when there are no carbohydrates available (eg weight loss)
· Protein is involved in hormone formation and maintenance of hormone levels
· Protein contributes to the proper functioning of the body's immune system
· Protein helps maintain fluid balance in the body
Natural prebiotic inulin fiber
Inulin contributes to the proper functioning of the digestive system. The intestinal tract also contains beneficial bacteria and other microbes that protect the health of the intestines and help the body function properly. However, this requires a good balance between good and bad bacteria. Inulin helps maintain balance by promoting the growth of beneficial bacteria. This improves digestion, the immune system and the overall health of the body. Inulin slows down digestion, including the digestion of carbohydrates. As a result, blood sugar levels also rise more slowly, which is essential for controlling blood sugar levels. By consuming inulin, we feel full, so we can avoid cravings. That way, we don't put in extra calories, so losing weight will go easier.
Organic Maca Root Powder
Energizing
Increase performance and physical fitness
Reduce oxidative stress at the cellular level
Sexual performance enhancement to stimulate sexual desire and potency
Harmonize menstrual cycle
Reduce the symptoms of menopause
Recommended for infertility
According to scientific research, Maca is especially rich in amino acids , phytonutrients, fatty acids, vitamins and minerals. It is extremely rich in nutrients as well as energizers, which is why many people think it is one of the best natural dietary supplements in the world.
ActiBio® Probiotic
Probiotics are beneficial bacteria that strengthen the immune system by restoring the gut flora and protecting the body from harmful bacteria. They displace the bacteria that cause the disease, so it is worth consuming them several times a year, not only in case of a problem, but also for prevention. By restoring the balance of the intestinal flora, they prevent gastrointestinal infections and restore damage. They can also reduce respiratory infections, as well as the development of allergic reactions and the severity of symptoms. Taking probiotics is often recommended after antibiotic treatments and as a supplement to the Candida diet.
DigeZyme® Digestive Enzyme Blend
DigeZyme® is a complex of 5 digestive enzymes - amylase, protease, lactase, lipase and cellulase - that support healthy digestion and absorption of nutrients from food. The molecules in the food are broken down into small enough elements that the body can absorb, which is related to the overall condition of the body.
Packaging: 300 g
NUTRITION FACTS

Content

100g

per serving (30g)

*RI%

Energy

1544 KJ/369 KCAL

463 KJ/111 KCAL

6%

Fat

-        of which saturated fatty acids

6,1 g

-       1,6 g

1,8 g

-       0,5 g

3 %

2 %

Carbohydrate

-        of which sugars

3,9 g

0,8 g

1,1 g

0,2 g

<0,5 %

<0,5 %

Protein

70 g

21 g

42 %

Fiber

11 g

3,3 g

***

Salt

3,4 g

1 g

17 %

Content

100g

Per serving

(30 g)

**NRV

Vitamin B3 (Niacin)

13,3 mg

4 mg

25 %

Vitamin B5 (Pantothenic Acid)

5 mg

1,5 mg

25 %

Vitamin B6

1,2 mg

350 µg

25 %

Vitamin B12

2 µg

0,625 µg

25 %

Vegetable protein mixture (pea protein isolate, rice protein, fava bean protein)

83 g

25 g

***

Natural Prebiotic inulin fiber

10 g

3 g

***

Organic Camu Camu powder

1000 mg

300 mg

***

ActiBio ® Probiotic

222 mg

66,6 mg
BILLION CFU PROBIOTIC

***

DigeZyme® digestive enzyme mixture

167 mg

50 mg

***

*RI%: Reference Intake value for an average adult(8400 kJ/2000 kcal)

**NRV%: Nutrient Reference Value for an average adult

***RI/NRV: not defined
Ingredients:
Pea Protein Isolate, Rice Protein, Fava Bean Protein, Natural Inulin Fiber (from chicory root), Low Fat Cocoa Powder (10-12%), Natural Chocolate Flavor, Organic Camu Camu (Myrciaria dubia (fruit)) powder, Natural Color (Caramel), Natural Sweetener (Steviol Glycosides), Pink Himalayan salt, Thickener (xanthan gum), ActiBio® Bacillus Coagulans 15 Billion CFU/g, DigeZyme®*, Nicotinamide, Calcium D-Pantothenate, Cyanocobalamin, Pyridoxine HCl.
*DigeZyme® is a registered trade mark by Sabinsa Europe GmbH*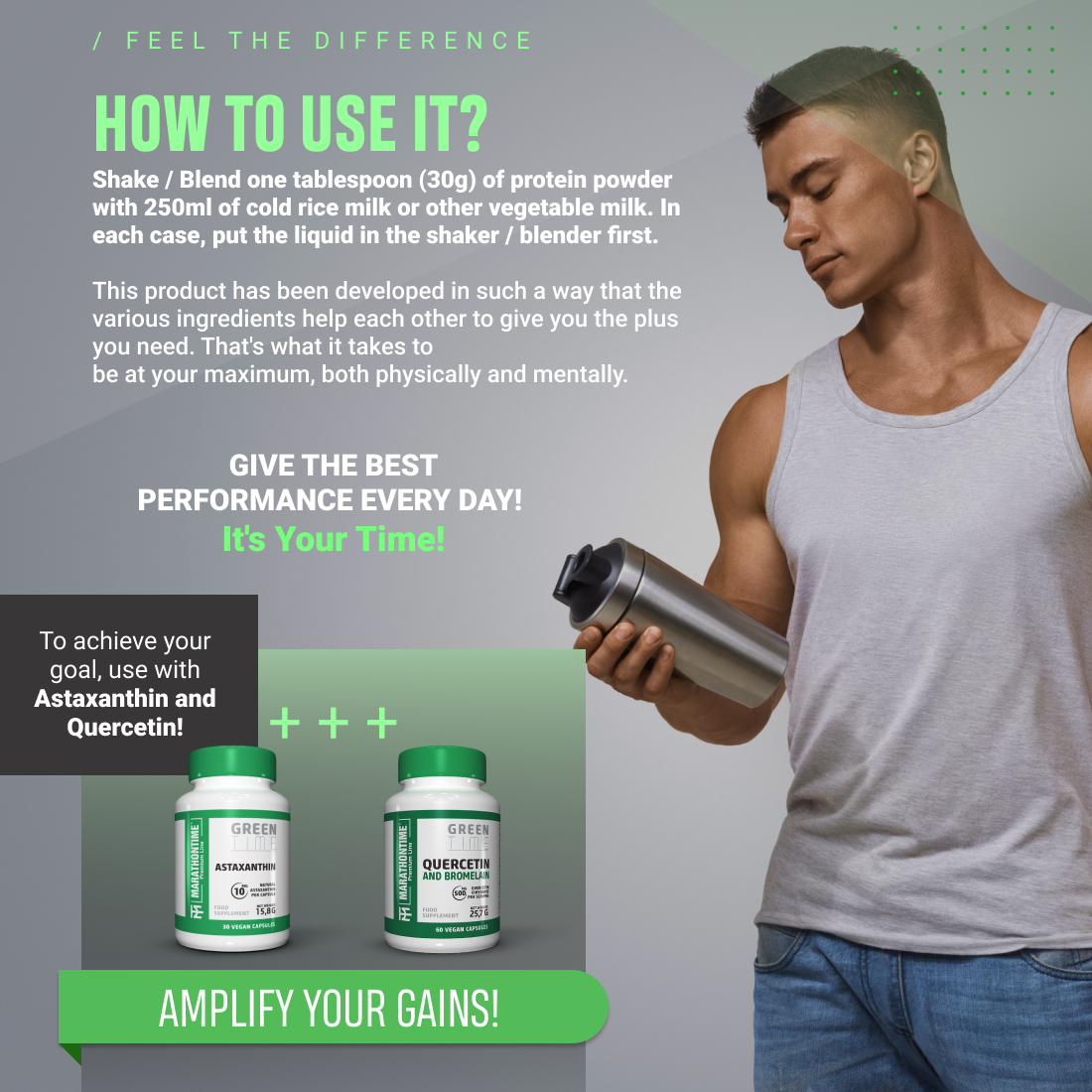 Premium Vegan Protein - Salted Caramel 300g
Reviews

8 rating


Számomra ez az edes- sós ízkompozició ad egy olyan pluszt amítől nagy kedvencé vált ! Állagra , oldódásra is tökeletes!

Tamara Kira Durányik
08/06/2023
Tökéletes, krémes, ízre 10/10❤️

Hosszú órákra jóllakottság érzetet ad, viszont számomra túl édes, a gyártó fehérje koncentrátuma sokkal kellemesebb ízvilágú, azt kifejezetten ajánlom.
Szilvia Sasinszki
19/12/2022
Nagyon ízletes, krémes. Vízzel és növényi tejjel is tökéletes választás.

Reggelire is szoktam enni és teljesen fel is tölt.

Nagyon jó ízű és az ára is teljesen megéri.

Nagyon kiegyensúlyozott az íze. Sós és édes tökéletes keveredése.

Edzés után tökéletesen visszatölti az erőmet és még nagyon finom is.