Protein Time Lactose Free 907g Chocolate Flavor
Get in shape! Brand new lactose-free protein concentrate for strong muscle
Average Rating:
Not Rated
Unit price:
€ 0.63/serving
Expected delivery:
November 25, 2020
Availability:

In stock

Manufacturer:

Marathontime
Protein helps to increase and maintain muscle mass as well as maintain healthy bones.

High protein content

Lactose free

No added sugar

Instantized formula

With added Digestive enzymes

Popular product
Buy it in a pack with discount!
Man training csomag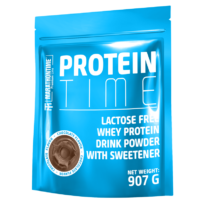 Íz: Chocolate
További kiszerelés: 907
+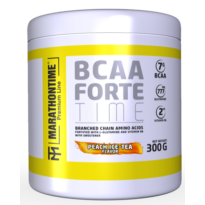 +
Description
Miért ajánljuk az új laktózmentes Protein Time fogyasztását?
Teljesen laktózmentes!

Hozzáadott emésztést-segítő enzimekkel

naturál aminosav profil

tartósítószer mentes

aszpartám mentes

pálmaolajmentes

praktikus kiszerelés
 
Hozd ki magadból a maximumot az új Protein Time fehérje koncentrátummal!
A  megfelelő mennyiségű és minőségi fehérjebevitel elengedhetetlen  a regenerálódáshoz és az izomépítéshez, de sok más  egyéb pozitív élettani hatása van a fehérjének a szervezetre nézve.
A fehérje egyensúlyban tartja a vér Ph-értékét.

A fehérje Energiaforrásként szolgál, ha nincs elérhető szénhidrát (pl. fogyókúra)

A fehérje részt vesz a hormonképzésben és a hormonszint fenntartásában

A fehérje hozzájárul a szervezet immunrendszerének megfelelő működéséhez

A fehérje hozzájárul a szervezet folyadék egyensúlyának fenntartásához
Protein Time prémium minőségű tejsavó fehérje az izomzatod növekedéséért.
A fehérje hozzájárul az izomtömeg növeléséhez és fenntartásához, valamint az egészséges csontozat fenntartásához is.*
* Az Európai Élelmiszer-biztonsági Hatóság (EFSA) által tudományosan bizonyított, és az Európai Bizottság (EC) által engedélyezett állítások.
Kiszerelés: 30 g./ 907 g. / 2270 g.
Adagolási javaslat: Keverjen össze egy adag (30 g) Protein Time italport 250 ml vízben vagy tejben.
Tápérték
Tartalom

100 g

egy adag (30 g)


*RI%
 

Energia

1758 kJ/377 kcal 
473 kJ/113 kcal 

6%

Zsír

6,9 g

2,1 g

3%

 - amelyből telített zsírsav

4,3 g

1,3 g

6%

Szénhidrát

6,5 g

2 g

1%

- amelyből cukrok

3,7 g

1,1 g

1%

Fehérje

71 g

21 g

43%

Só

1,36 g

0,41 g

7%

Emésztőenzim-komplex

300 mg

90 mg

-

Laktáz-enzim(25000fcc unit**)

200 mg

60 mg

-

Bromelain

50 mg

15 mg

-

Papain

50 mg

15 mg

-
*RI%: Referencia beviteli érték egy átlagos felnőtt számára (8400 kJ/2000 kcal)
*RI%: Referencia beviteli érték egy átlagos felnőtt számára (8400 kJ/2000 kcal).
**Food chemicals codex
Összetevők: 
 instant tejsavófehérje koncentrátum (TEJből), sűrítőanyag [ThixogumTM (xantángumi, guárgumi)], aroma, só, színezék (béta-karotin), béta-galaktozidáz, édesítőszer (szukralóz), Bromelain Ananas comosusból kivonva (2500 GDU/g), Papain Carica papaya-ból kivonva (6000 USP/mg).
Allergén információk:
 Tej, szója, tojás, hal és földimogyoró összetevőket feldolgozó üzemben készült. Hozzáadott cukor nélkül. Aszpartámmentes. Laktózmentes
Minőség: A Protein Time és az összes többi Marathontime termék biztonságos összetevőkből lett gyártva.
Figyelmeztetés: Az étrend-kiegészítő nem helyettesíti a kiegyensúlyozott, változatos étrendet és az egészséges életmódot!
Reviews
There are no reviews for this product.