Description
 Protein Time - Premium Quality Lactose Free Whey Protein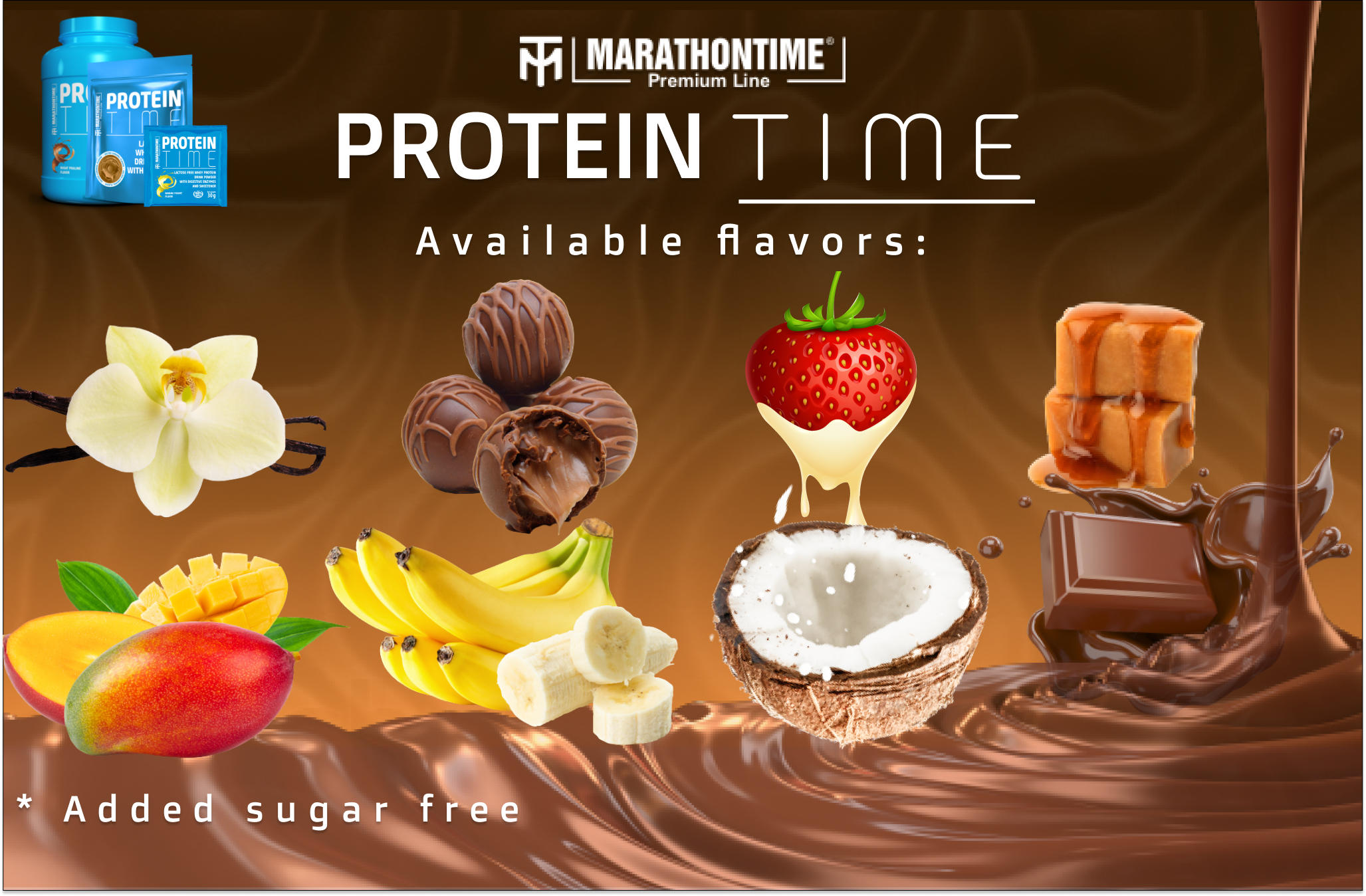 Flavours: *Chocolate *Mango Smoothie  *Salted Caramel *White chocolate strawberry *Banana-Yogurt *Nougat praline *Coconut cream * Vanilla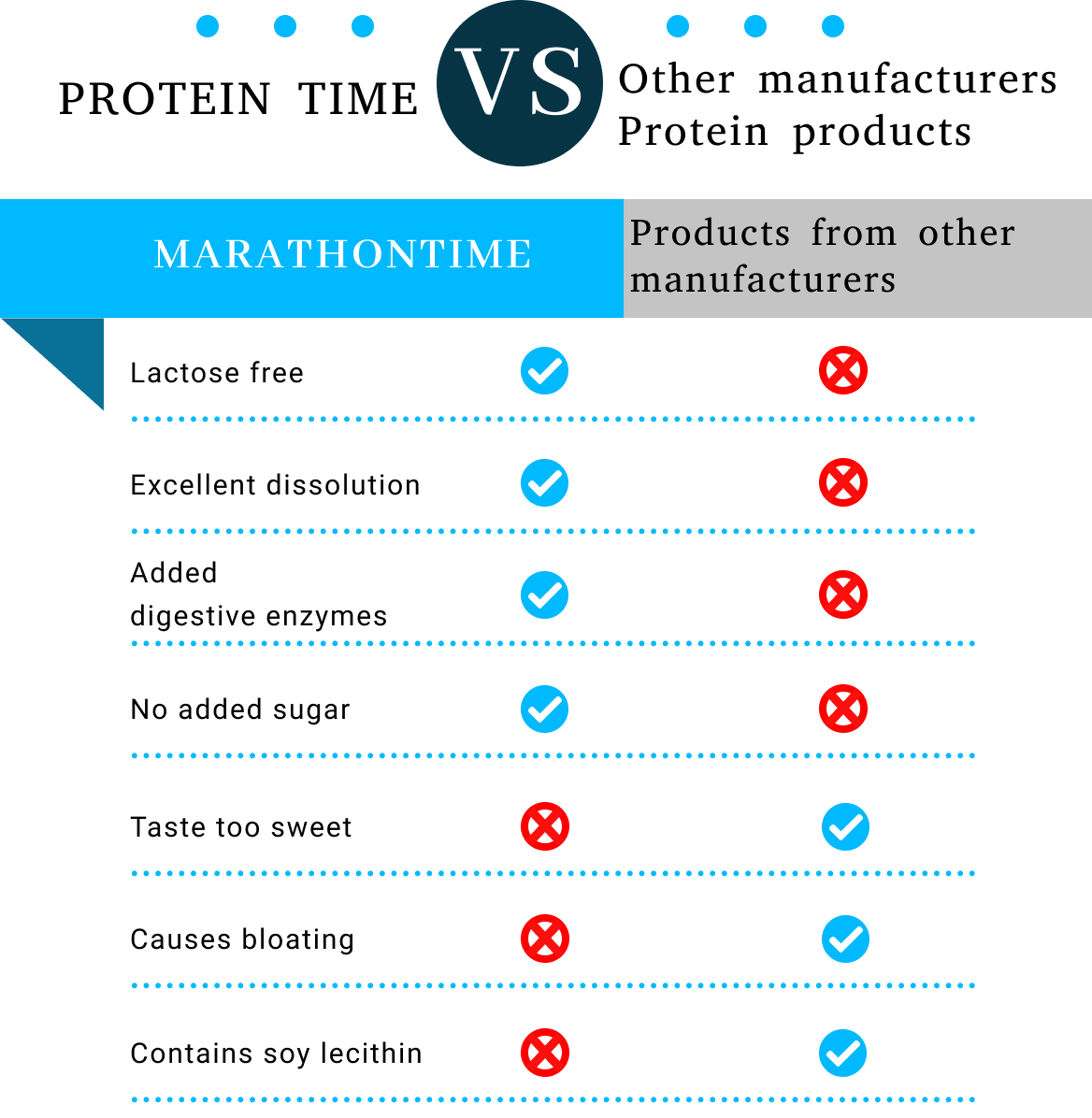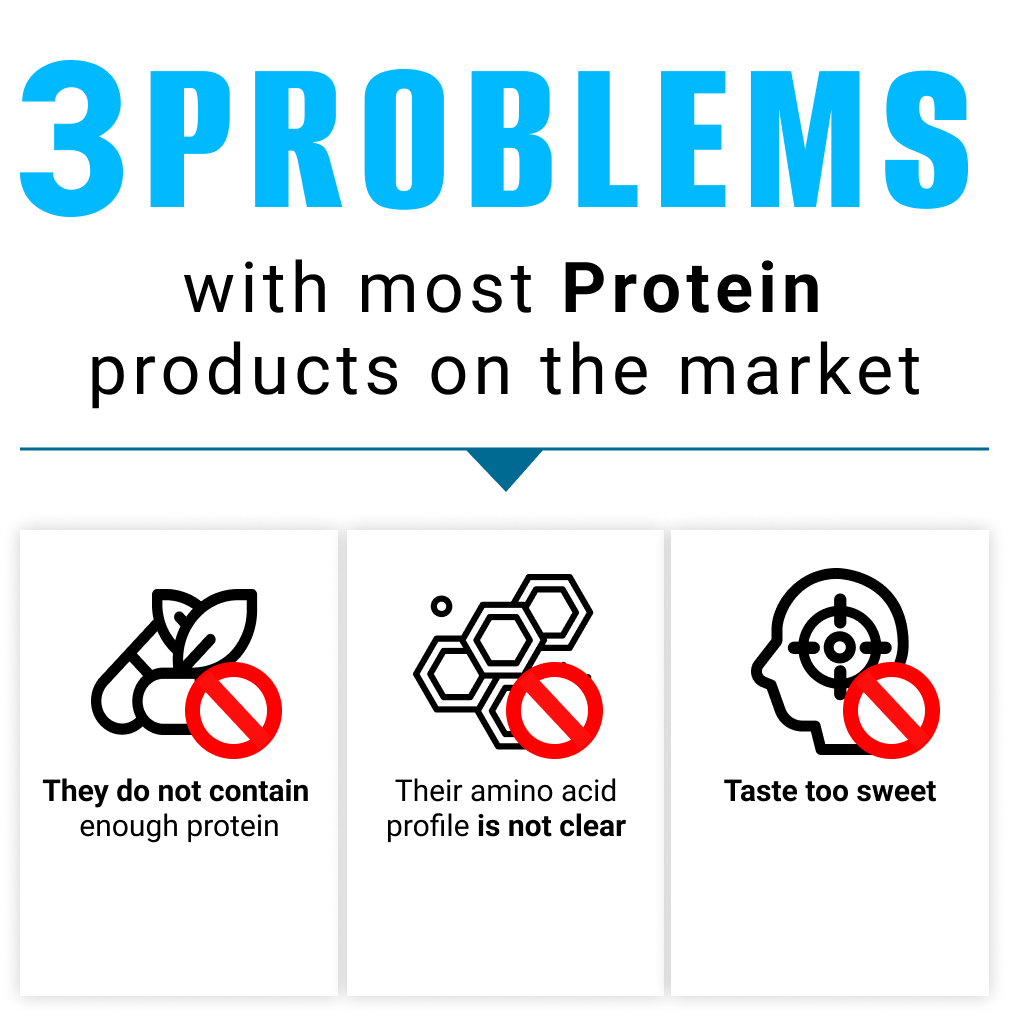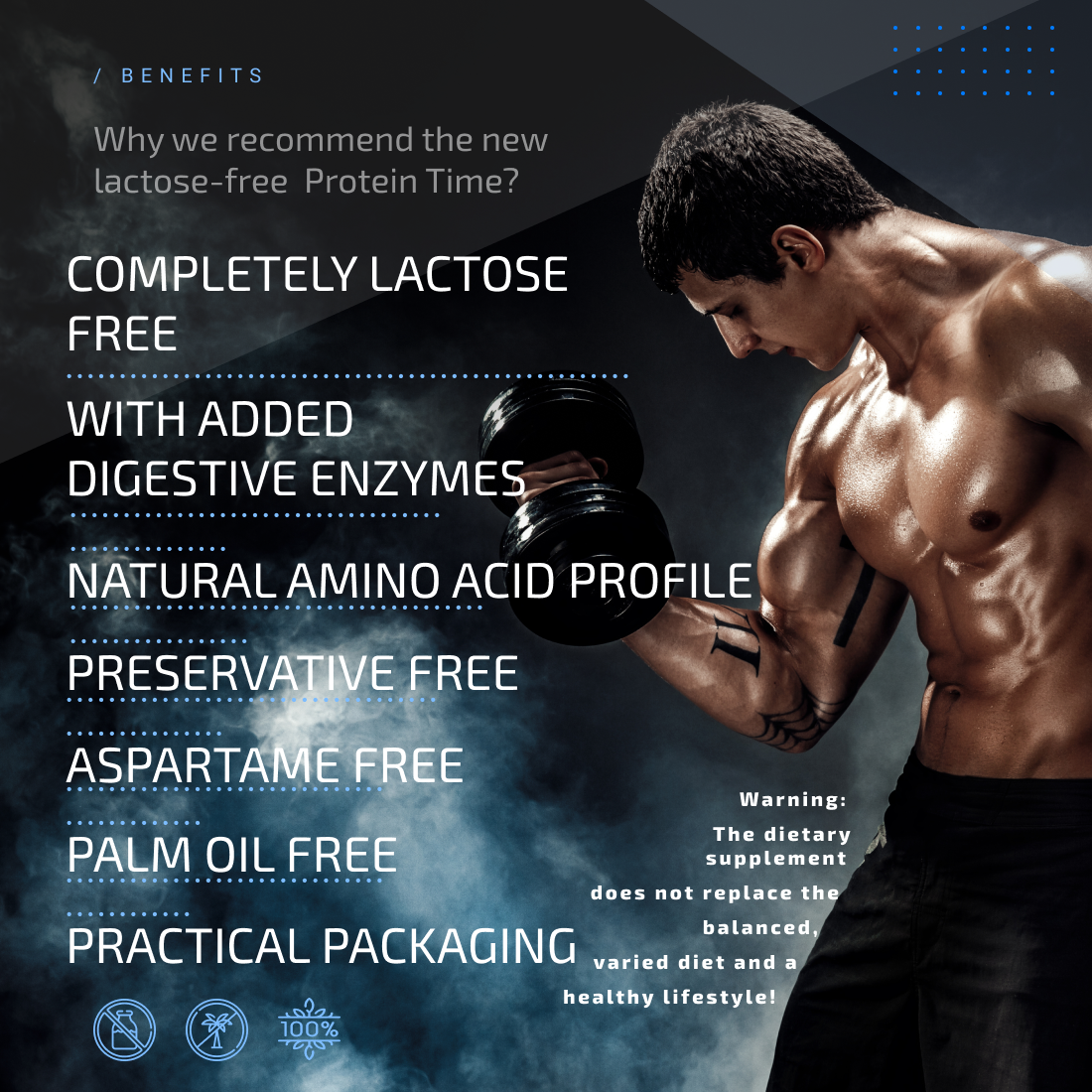 Get the most out of yourself with the new Protein Time protein concentrate!
Adequate quantity and quality protein intake is essential for regeneration and muscle building, but protein has many other positive physiological effects on the body.
·        Protein can balance the Ph value of the blood.
·        Protein can serve as an energy source when carbohydrates are not available (e.g. dieting)
·        Protein can participate in hormone formation and maintenance of hormone levels
·        Protein can contribute to the proper functioning of the body's immune system
·        Protein can contribute to maintaining the body's fluid balance
Protein Time premium quality whey protein for your muscle growth.
Protein contributes to increasing and maintaining muscle mass, as well as maintaining healthy bones.
* Claims scientifically proven by the European Food Safety Authority (EFSA) and authorized by the European Commission (EC).
Packaging: 30 g./ 907 g. / 2270 g.
Packaging: 907 g
Nutrient Table

Content

100g

One serving (30g)

*RI%

Energy

1605 KJ/383 KCAL

482 KJ/115 KCAL

6%

Fat

-        of which saturated fatty acid

6,6 g

-       4,1 g

2 g

-       1,2 g

3 %

6 %

Carbohydrate

-        of which sugars

5,6 g

-       3,9 g

1,7 g

1,2 g

1 %

1 %

Protein

75 g

23 g

45 %

Salt

2,39 g

0,72 g

12 %

Dygestive enzyme complex

-        Lactase enzyme (25000fcc unit***)

-        Bromelain

-        Papain

300 mg

-200 mg


-50 mg

-50 mg

90 mg

-60 mg


-15 mg

-15 mg

-

-


-

-

*RI%: Reference intake value for an average adult (8400 kJ/2000 kcal)

**Food chemicals codex
Ingredients: instant whey protein concentrate (from MILK), salt, thickener (ThixogumTM (xanthan gum, guar gum), flavors, coloring (beta-carotene, caramel), beta-galactosidase, sweetener (sucralose), Bromelain extracted from Ananas comosus (2500 GDU/g) , Papain extracted from Carica papaya (6000 USP/mg)
Amino acid content:
| | |
| --- | --- |
| EAAs: Essential Amino Acids  | mg / 100g |
| L-Isoleucine (BCAA) | 5131 |
| L-Leucine (BCAA) | 8944 |
| L-Valine (BCAA) | 4896 |
| L-Lysine | 8003 |
| L-Methionine | 1902 |
| L-Histidine1516 | 1516 |
| L-Phenylalanine | 2617 |
| L-Threonine | 5894 |
| L-Tryptophan | 1610 |
| NAAs: Non-essential Amino Acids | mg / 100g |
| L-Alanine | 4303 |
| L-Arginine | 1958 |
| L-Aspartic acid | 9057 |
| L-Cysteine | 2024 |
| L-Glutamic acid | 1450 |
| L-Glycine | 1544 |
| L-Proline | 4941 |
| L-Serine | 4237 |
| L-Tyrosine | 2467 |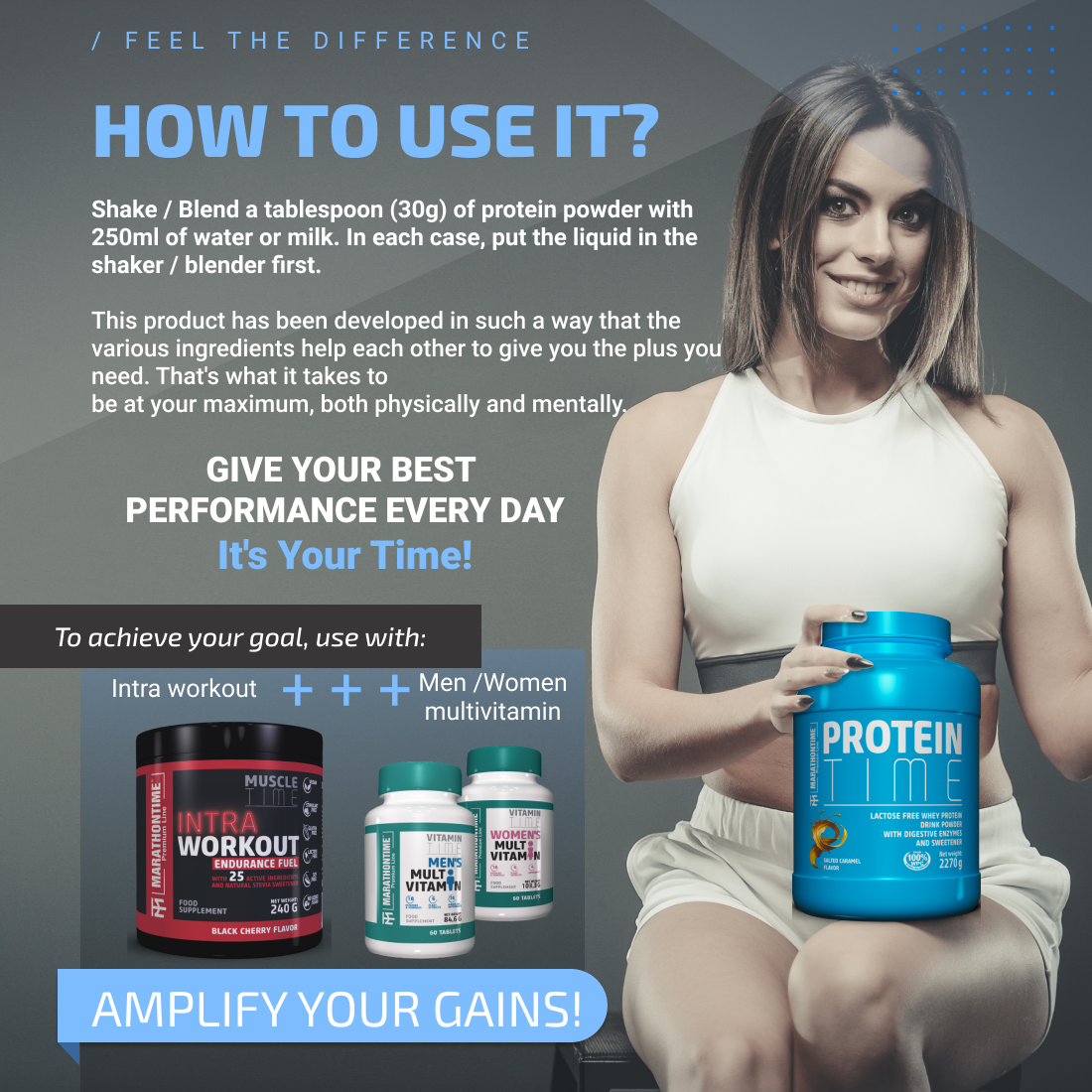 Protein Time Lactose Free Whey protein - Salted caramel 907 g
Reviews

29 rating


Róbert Mészáros
28/06/2023
Sok fehérjét próbáltam már,de ez tényleg finom, tényleg jól oldódik, tényleg látom a hatását... Tényleg igazat írtatok!!!

Csilla Szenohradszki
25/03/2023
Én maffint csinálok belole,nagyon jó állagú nem száradt ki mint más feherjékkel

Török-Palotàs Andrea
24/01/2023
Sok fehérjét próbáltam már, de ez mellett maradok! Nem puffadok tőle, végre nem az az gejl íz, imádom, hogy krémes! Csak ajánlani tudom! Ne féljetek kipróbálni, a mangós a kedvenc!

Szimonetta Sirkó
31/12/2022
Kiváló minőség, kellemes ízvilág, nem túl édes mind reggeli zabkásába mind önmagában a nap bármely részében szívesen fogyasztom.

Meg vagyok elégedve. Mind az árral mind az ízzel.

Jól oldódik,finom.,benne minden ami az átlag embernek kell.A kis kiszerelése külön is praktikus,mert vihetem az utazásaim alatt magammal,s ahogy írtam is ,egy pohár,egy kis víz és jól oldódik azonnal fogyasztható,nem kell órákig keverni. Az ízek is megfelelőek,főleg hogy én nem az alap ízeket szeretem,hanem az attól eltérőeket.

Hegyi Krisztina
05/06/2022
Más fehérjékhez képest sokkal finomabb, krémesebb állagú és az íze nem olyan émelyítő. Nagyon finom

Meglepően jól kikevert , harmonikus íz , más gyártótól még nem ittam ilyen ízben, de ez hozza azt amit az édességeknél, csokiszeleteknél megszokott, elvárt íz. Én mindig vízzel keverem, és még így is olyan szépen simuló érzés volt inni, köszönhetően a jó oldódásnak.

Nagyon finom és sok hasznos plusz összetevővel.

Több ízt is ki próbáltam. Mind finom volt és ár érték arányban is nagyon jó.

Krisztián Vigh
01/06/2022
Nagyon sok ízben kóstolta a Marathontime fehérjéit. Nekem ízre ez a személyes kedvencem! Állagra és oldódásra az összessel meg vagyok elégedve!

Egyik legjobb ízben és szerintem jól is hasznosul.

Morisz Kachichyan
31/05/2022
Még anno rendeltem kóstolót az összes ízből! A gyümölcsös ízeket nem szeretem, de azok is meglepően finomak voltak, a kedvencem a sós karamellás és a kókusz krémes, azok cefetül finomak! Könnyen oldódik és jó az állaga, és leírás alapján a fehérje sem gagyi minőségű, reméljük hogy tényleg így van :D Mindenképpen fogok rendelni még fehérjét

Nagyon meg vagyok elégedve mint a termékkel mint a korrekt kiszállitással .

Az eddig kipróbált termékekkel teljesen meg vagyok elégedve, szuper ízek, gyors oldódás , csak ajánlani tudom mindenkinek

Ízre és állagra is tökéletes, sok fehérje okozott emésztési problémákat, ez azonban egyáltalán nem.

Johanna Némethné Szaitz
31/05/2022
Tökéletesen oldódó, edzés után laktató termék. Íze kellemes, nem túl édes nam túl gej. Kedvenc íz a nugát praliné és a kókusz....bár finom a banános és a mangós is.
Akár egy étkezést is ki tudsz vele váltani, nem leszel hamar éhes :)
Jó szívvel ajánlom :)

Nagyszerű készítmény, nem csomósodik remek ízü csak ajánlani tudom

Sok fehérjét kipróbáltam már, ez abszolút a kedvencemmé vált. Nem túl édes, nem gejl, szépen oldódik. Szeretem, biztosan újra fogom venni.

Nagyon kellemes az íze és jól oldódik bár a sós íz kicsit nekem erős.
A konkurenciától vagyis többről "néztem" àt hozzátok . Eddig nem igazàn tetszett a minőség és az íz . ( talán a kis csomagok és a megszokott keverésem miatt )
NA DE MOST MEGFOGTATOK !!!!

Viktória Bocsi
16/12/2021
Elégedett vagyok, a termék nem gejl. Teljesen jól oldódik.

Petra Gunázerné Kolonics
22/11/2021
Kedvenc izesítésem. Nem túl édes, lágy íz. Nem habzik fel. Jól oldódik. Egyszerűen tökéletes.

Krisztian Duma
16/10/2021
Valami brutalis minosegrol van szó! Íz oldódás minőség verhetetlen! Nem beszélvr arról hogy adalékmentes!!! Ajanlom!!! Es koszonom az ajandekokat! Nagyon korrekt ceg vagytok!


Sokféle fehérjét próbáltam már, de eddig ez a kedvencem. Vízzel és tejjel is nagyon finom és krémes állagú.

Számomra a legnagyobb előny a Protein Time finom ízein kívül, hogy egyáltalán nem okoz puffadást és egyáltalán nem görcsöl a hasam tőle, mint ahogy a többi shaketől szokott:) Csak ajánlani tudom!

Már több hónapja használom a Marathontime fehérjéit és teljesen meg vagyok elégedve vele. Edzés után fogyasztva egyszerűen erőt ad, érzem ahogy dolgozik a testemben... Imádlak Titeket!

Erősen vezeti a piacot..Rengeteg fehérjében csalódtam már, a Protein Time viszont kítűnően oldódik, a sós karamell íz egyszerűen csodálatos