More pictures


Protein Penne
Marathontime Penne, high protein lactose and gluten free dry pasta!
Average Rating:
Not Rated
Expected delivery:
January 19, 2021
Availability:

In stock
Marathontime Penne, high protein lactose and gluten free dry pasta!

High protein content

No added sugar

For supporting an active lifestyle

Popular product
Buy it in a pack with discount!
Fehérje csomag Tésztával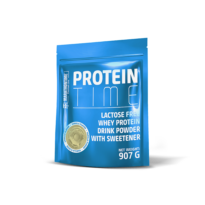 +
Description
 Megérkezett a Protein Tészta-család!
A Protein Penne fehérjével dúsított tészta, ami nem tartalmaz sem glutént, sem laktózt. 
A túlzott tésztafogyasztás nem igazán egészséges, viszont nagyon finom és sokszor az íze miatt megéri "csalni" miatta..
Ebben tud segíteni a protein tészta, hiszen finom íze mellett tele van hasznos tápanyaggal, így többé nem kell lemondanod a tésztáról, diétád alatt és után.
A potein tészta idális választás sportolók számára is, hiszen hasznos fehérje forrás, ami több hasznos tulajdonsága mellett az izomnövekedés alappillére.
Ínyencek számára is tökéletes,mert nagyon finom és egyedi élelmiszer. Próbáld ki!
ÖSSZETEVŐK:
kendermag liszt, laktózmentes TEJsavó fehérje koncentrátum, TOJÁSfehérje, maghéj liszt, kurkumapor (gyökér).
Tápérték:
  TARTALOM                                       100 g-ban   RI%* 
Energia                             349 kJ/1475 kcal         18%
Zsír                                                  3,8 g             5% 
amelyből telített zsírsav                  1,8 g              9%
Szénhidrát                                    45,1 g             17% 
amelyből cukrok                             2,6 g              3%  
Protein / fehérje                            30,3 g             61%
Élelmi rost                                      6,5 g
Só                                                  0,3 g            5% 
*RI: Reference intake of an average adult (8400 kJ/ 2000 kcal). tt számára ő *RI%: Referencia beviteli érték egy átlagos feln (8400 kJ/2000 kcal)
Reviews
There are no reviews for this product.