MT AMINO TIME - Glycine 60caps
| | |
| --- | --- |
| Availability: | In stock |
| Unit price: | € 0.11/capsule |
| Expected delivery: | May 20, 2022 |
Ajándék termék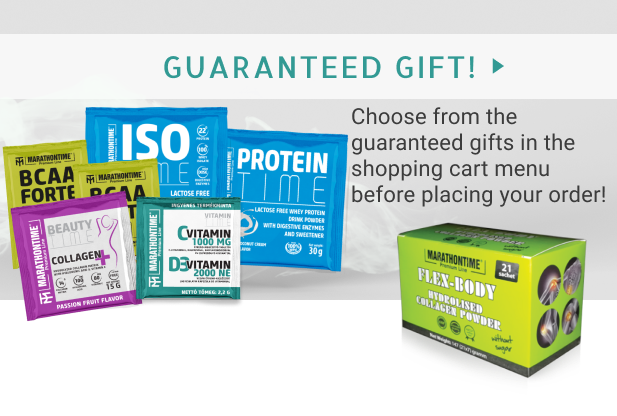 Description
 Glycine


Why do we recommend taking Glycine capsules?
May cause deeper sleep
Fresher, cleaner head when you wake up
May have anti-inflammatory effects
May inhibit new blood formation
Make it easier and faster to fall asleep
About Glycine:
 
Glycine is a non-essential amino acid. In a placebo-controlled study in 2006, Inagawa and colleagues measured the effect of glycine taken one hour before bedtime on sleep and the next day's alertness (Inagawa et al., 2006a). Their main results were that subjects woke up significantly fresher and with a clearer head while taking glycine. As the authors quote, glycine is absolutely safe, even 30 grams does not cause any side effects (Garlick, 2004).
In 2007, Yamadera and colleagues further investigated the effects of glycine. As a result, glycine facilitates and speeds up sleep and increases sleep time.
The study also showed that those taking glycine felt fresher the next day, meaning that glycine did not have the effect of causing drowsiness afterwards, but that the subjects were more alert throughout the day through deeper sleep.
Other effects of glycine include: anti-inflammatory, inhibits neovascularization (it is protective in cancer), stimulates immune function, inhibits blood clot formation and, according to an analysis, counteracts the undesirable effects of fructose (such as fatty liver) (McCarton and DiNic , 2014).
*
Source: https://www.tenyek-tevhitek.hu/faradt_rosszul_alszi_szedjen_glycint.htm

Packaging: 60 capsules (60 servings)

Active ingredients in the recommended daily allowance (1 capsule):
800 mg of L-Glycine
Ingredients: L-glycine, gelatin, anti-caking agents (magnesium salts of fatty acids, silica), dye (titanium dioxide).
Allergen Information: Made in a plant processing milk, soy, eggs, fish and peanut ingredients.

Quality: Glycine capsules and all other Marathontime products are made from safe ingredients.
Warning: A dietary supplement is no substitute for a balanced, varied diet and a healthy lifestyle!
* Claims not scientifically substantiated by the European Food Safety Authority (EFSA) and not certified by the European Commission (EC).

Dosage recommendation: It is recommended to take 1 capsule daily with plenty of fluids.
Reviews
There are no reviews for this product.