More pictures






2000NE Vitamin D3 - Vegan capsules
Sale duration:
18/11/2021 - 29/11/2021
Vitamin D3 2000NE - for the functioning of the immune system
Average Rating:

(4)

Unit price:
€ 0.04/softgel capsule
Expected delivery:
December 02, 2021
Availability:

In stock
Vitamin D helps the body prepare for viruses
Vegan
High dose active ingredient

Immune booster *
Description
Miért ajánljuk a 2000NE D-vitamin fogyasztását?
Legújabb kutatások szerint a megfelelő mennyiségű D-vitamin pótlása segít a járványokkal szembeni védelemben*

Vegán kapszulában, így vegánok is fogyaszthatják

Hozzájárul az idegrendszer normális működéséhez

2 hónapra elegendő D-vitamin utánpótlás a szervezet számára

Legújabb híradások szerint nagy százalékkal képes védelmet biztosítani a koronavírussal szemben
 A 2000NE Vegán D-vitamin jellemzői:
A D-vitamin a bőrben termelődik napfény hatására, ezért a téli szürke hónapokban kiemelten fontos gondoskodni pótlásáról, ilyenkor gyakran hiányállapot alakul ki. A hazai szakmai ajánlás ebben az időszakban 2000 NE D-vitamin naponta. Ez a mennyiség található meg  ezekben a kapszulákban. Nem több, nem kevesebb. 
A kalcium és a D-vitamin segítik egymás felszívódását, hozzájárulnak az izmok és az idegrendszer normális működéséhez, a normál csontozat és fogazat fenntartásához. Szerepük van az immunrendszer megfelelő működésében. *
Adagok száma: 
60 adag. 60 lágyzselatin kapszula (722 mg x 60 db)
Adagolási javaslat: 
napi 1 D-vitamin lágyzselatin kapszula bőséges folyadékkal lenyelve.
Aktív összetevők a napi ajánlott adagban (1 kapszula):
Név

Mennyiség

*NRV

 
 
 

D3-vitamin (2000 NE)

50 µg

1000%
*: NRV napi beviteli referenciaérték felnőttek számára
**: NRV nincs meghatározva
Összetevők: napraforgó (mag) olaj, nedvesítőszer (glicerin), módosított keményítő, karragén, tisztított víz, kolekalciferol.
Allergén információ: Tej, szója, hal és földimogyoró összetev őket feldolgozó üzemben készült.
Minőség:  A D-vitamin 2000NE és az összes többi Marathontime termék biztonságos összetevőkből lett gyártva.
Figyelmeztetés: A termék nem helyettesíti a vegyes étrendet és az egészséges életmódot. 
* Az Európai Élelmiszer-biztonsági Hatóság (EFSA) által tudományosan nem bizonyított és az Európai Bizottság (EC) által nem igazolt állítások.
Reviews

4 rating



E. Réka
|

18/12/2020
Vegánként régóta keresek olyan gyártót, akik még a kapszulahéjra is figyelnek, hogy növényi legyen. Örülök, hogy megtaláltam ezt a terméket!
P. Klári
|

18/12/2020
Hatalmas előny hogy oldott formában van a D-vitamin, ezért sokkal jobban hasznosul. Napi 5000 egységet szedek átlagosan, nyáron 2-3000et. Más márkák termékeit is próbáltam már, de sajnos azok nem javítottak annyit az egészségemen, mint ez a termék
Zs. Robi
|

18/12/2020
Kítűnő ár/érték arányú immunerősítő. Kötelezővé tenném a fogyasztását, én is minden nap szedem és nem is betegedtem meg azóta!
Márió
|

20/11/2020
Buy it in a pack with discount!
Minőségi immuntámogatás 2 hónapra: 1000mg C-vitamin, 2000NE D-vitamin, Ca-Mg-Zn
+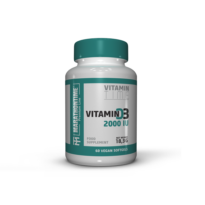 +